Two years ago I walked the Camino de Santiago, an 800 kilometer pilgrimage from France through Spain, and it was a great experience. Although being a fairly strenuous hike, I felt stronger every day, I got to see daily life play out in small places I had never heard about before, and at the end of the journey a strong feeling of accomplishment was my reward.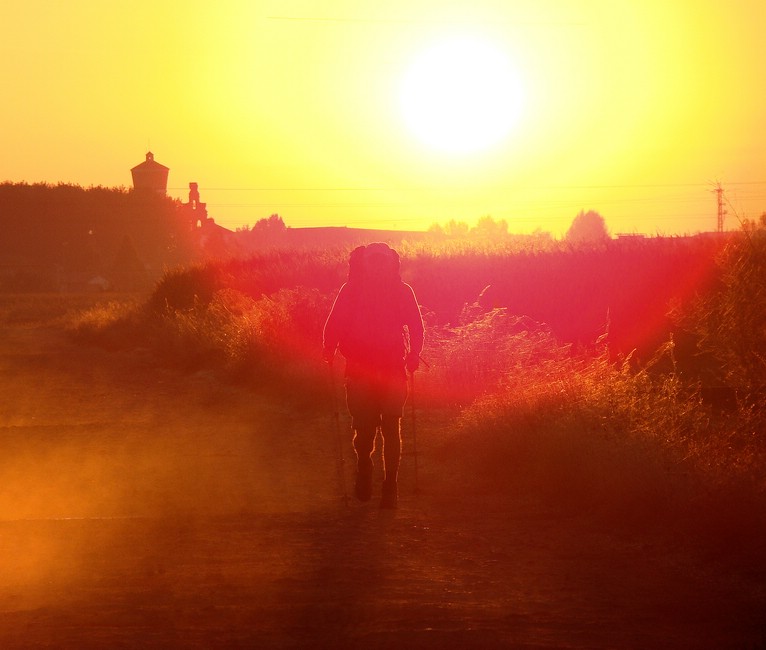 This.
I'm still a devoted atheist, but now I'll be going out on a Holy Walk again. On Sunday I'll fly to Milan. Monday morning I'll continue on the train to Fidenza. There I'll get my credencial, a pilgrim passport, and then I'll get going on Via Francigena, the old route from Canterbury to Rome, where there are still some 600-700 kilometers left of it. It's soon time to prepare the tea, Pope! I'm coming your way!
As far as loading up an iPad with podcasts counts as preparations, I'm well prepared for this walk. The beginning of my journey will at least be easier than the previous one was. The last thing I did before leaving from home to walk the Camino was to run a half marathon in Oslo.
Also, this time I won't have to start by hiking across the Pyrenées. I've had a look at the map, and this looks like a nice and easy walk, although it may be a hot one. I'll be walking through Lombardy, Parma, Emilia-Romagna, Liguria, Tuscany and Lazio, all the way to Rome. You can easily put " Ham" behind all of those, and that bodes well. Apart from the names of the regions, I don't really know where I'm going. I do, however, look forward to observing everyday life in Poggibonsi, which is the funniest-sounding place I've discovered on the map so far.
I'm somewhere around here!
Via Francigena doesn't have all the facilities of the Camino de Santiago, so I may be sleeping outside a bit more than usual this time. Which may be a good idea anyway, with all the earthquakes in Italy lately.
However, the Italians would love to have more visitors come for a walk and to spend some money there, and I've found a couple of places along the way where they're actually competing in showing the most hospitality towards pilgrims this summer. Someone here at home is a bit worried the Italians may be a bit TOO friendly towards me. She has decided to remedy that by giving me a good, old, home-made haircut before she'll let me leave.
I'll be bringing a hat.
With a bit of luck, I may find some Internet along the way. If so, you'll be hearing from whatever is left of me by then. (I don't expect to gain much weight this summer.)
Hallelujah.