The last you heard from me was that I plotted my next escape from arguably the best country in the world to live in. I ended up going to Ireland. I've long since returned home, but while the
photos from the trip
are right where they should be, the tale of my journey has been missing. Until now. Here it is.
Short version: I had a great time, although I did acquire a bit of a sunburn while having four sharks circling me. Enough to tickle your curiosity? If so, hang on for the unabridged version below.
"Gidday! What's going on here?!"
The deal this time was that just as I was leaving work for a month, I discovered that the weather forecast for Ireland was an extremely rare two weeks of sun! A day or so later I was on a plane to Dublin, where I landed in the middle of the Saint Patrick's Day celebrations.
As usual, I skipped the beer and shouting part and visited the National Museum of Natural History instead. It claimed to have just reopened after some major refurbishing, but there were no Furbies on display, and if they really had tried to fix up the exhibits a bit, I would be very interested to see photos of what the place looked like before they started. I've never seen a worse-looking large collection of antique works of taxidermy. Here are some examples for you:
Clockwise, starting in the upper left corner: a frying pan monkey, a penis ape, a button-nosed rabbit,
a yellow-eyed fnuff and a flying flashing rat.I bet you didn't even know they existed.
I heard a little girl ask her father if the specimen she was looking at was a giraffe, a kangaroo or a bat, and frankly I was wondering the same myself. "Let's go get some ice-cream", he suggested. Smart man.
As soon as I could find a sober bus driver after the national holiday, I went west, to Cashel. It's a small town, but strange things happen even in small places. In this case, the strange thing was that I was locked up by someone, and the police had to come and rescue me. Of course, usually it's the other way around. Like in the case of Robin Hood. But that was in England, and Ireland is anything but England.
Anyway, I was being a good tourist, entering the town's visitor center to ask where I might rent a bike. There was a line, which I don't like much, so I went to another room to have a look at the temporary exhibition "Stuff written by fifth graders about boring local history". Just as I was about to fall asleep, I pulled out of it and went back to see whether the line was gone.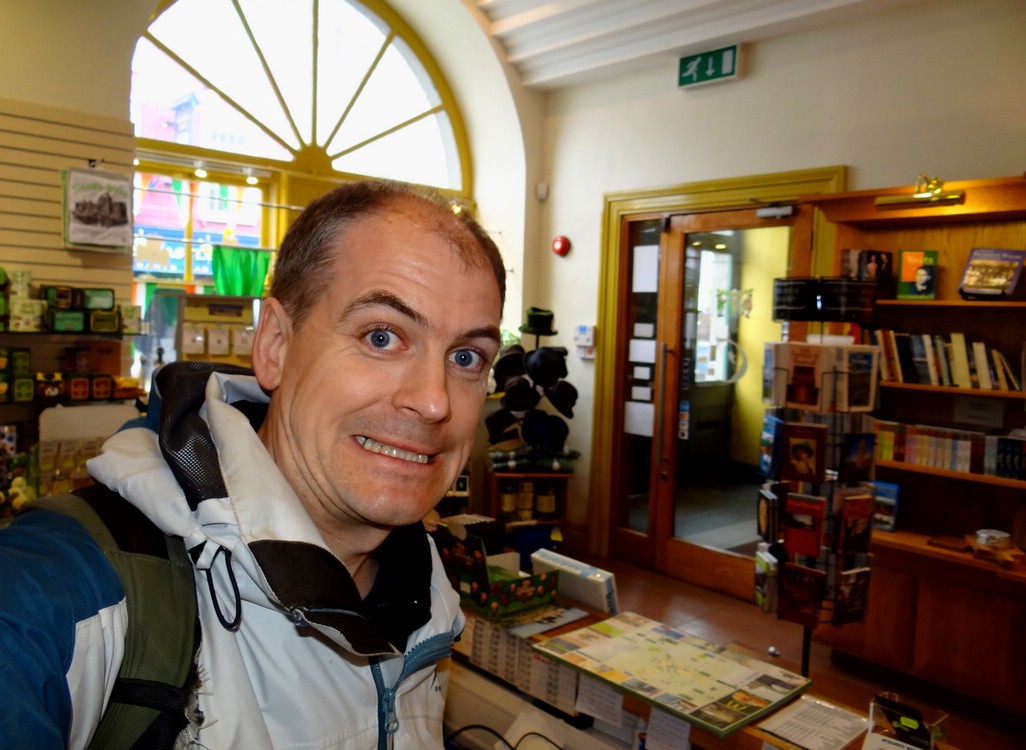 Entirely captivated, Wallace and Grommit style.
It was. And so was the woman that had been servicing it. "That's funny", I thought, in a not amused way. The front doors were locked. So was the back door. And the windows. I found a phone behind the counter and called all my friends in Australia, before I finally called the police and explained that if anyone had reported a burglar in the visitor center, that was not the case, and could they please come and get me.
The oldest policeman in Ireland was dispatched, the guy that is so beyond useful that he can't even help cats down from trees anymore. He had some special gear and started working his magic on the locks, but he only managed to unlock one of the two locks on the door. Eventually some special unit for stupid tourist incidents had managed to locate the woman that had locked me up, and brought her to get me out of there.
I know the Irish have a reputation for being endowed with much red hair and freckles, but I've never seen anyone anywhere look as red as that woman. And she didn't even have red hair or freckles.
Apart from that, or to be honest actually including that, I quite enjoyed Cashel. It's a small town, where you can't really sing "It's a long way to Tipperary" and mean it. Tipperary is literally next door. At the local fast food shop I found out what melodies the locals like to listen to instead. Here's the top 10 list from the jukebox:
1. Galway Girl, featuring Sharon Shannon. She plays the fiddle and the accordion, and her other big hit is "What You Make It (da, da, da, da)". I'm sure she's a very talented woman.
2. The Gambler (Kenny Rogers). Winning the Lotto has been the most likely way to make any decent money in Ireland lately.
3. Crazy World (Aslan). A sad song for tough times. It's a long song, so you get a lot of music for your money with this one. Not made by a lion, despite the name of the band.
4. Fisherman's Blues (Waterboys). A tale about the kind of people who at least can get their food straight from the sea, even when they can't afford to get it from the shop any longer.
5. Sweet Child O' Mine (Guns N' Roses). Somewhat disturbing in a Catholic country, if you ask me.
6. Down Under (Men At Work). Obvious choice, now that half of Ireland (the young ones) are considering leaving for Australia to find work.
7. A Nation Once Again (Wolfe Tones). Close enough to the national anthem of Ireland, written in 1840 and continuously being covered by every band of any importance as the times go by.
8. Apologize (Timbaland). What? An actual pop song on the list? Wow!
9. Big Girl - You Are Beautiful (Mika). Motivational music written especially with fast food outlets in mind.
10. Heaven (Bryan Adams). There are many believers around here.
Celtic crosses are slightly better-looking and more mossy than most other crosses.
Or are there? After all the scandals with sexual abuse of children within the Catholic Church of Ireland (and elsewhere) lately, religion in Ireland has taken a heavy hit. But in Cashel the old churches and graves are still standing proud, as beautiful and useless as ever.
I moved on to Cork. It's just the second largest city in the country, but thanks to its many students, I'm pretty sure they drink even more alcohol per capita there than they do in Dublin. And they've got the nation's tallest building that isn't a church, "The Idle Tower".
An Irish luxury skyscraper in an otherwise run-down neighbourhood.
The buildings real name is "The Elysian", and it was originally intended as the most prestigeous apartment building in Gingerland. Then the financial crisis came and toppled the project. Now the place is 99 % done, but close enough to still being empty. Only the parking lots in the lower floors seemed to be in use. But the Irish sense of humour lives on in building's nickname.
Cramped and old, but the cutest street in Cobh.
Cobh is a lot cozier. It's a suburb of Cork, located closer to the ocean. It was from here that the Titanic left on her first and last attempt at crossing the Atlantic. Since then, all they've been doing in Cobh is to try and maintain their way too large cathedral and to build various Titanic museums.
The cathedral completely dominates the small town of Cobh.
I particularly enjoyed the exhibition where seasickness was emphasized. Several scenes showed people who were pretty green in their faces and/or had their heads buried in buckets semi-filled with some yellow-brownish goo probably containing a considerable amount of stomach acid.
Intriguing details!
The Butter Museum in Cork, which actually is a place that exists, can safely be ignored, though.
By now I was done with the city life, so I moved on to Killarney. "Poor Arney!", you may think, but there's no reason to worry. By Irish standards, Killarney isn't even a slightly strange name for a place. Here are a few other ones:
Kilbarrack: I reckon the CIA must be paying attention to this place.
Kilbride: Probably not the most popular destination for honeymooners.
Graiguenamanagh: A desperate attempt to sound like a place where exclusive whisky is distilled.
Artfart: Oooh! Fancy!
Skibbereen: There just has to be lots of sailors living there.
Knocknadobar: I'm guessing there's a rough bar there somewhere.
Gap of Dunloe: I'm pretty sure that's a place in Midgard, with lots of Orcs in it.
Letterfrack: Also known as Envelope?
Doon Well: No one's ever caught food poisoning there, I bet.
I could have gone on and on. Knock. Bloody Foreland. Muff. Clones. Sally's Gap. Gortahork...
Dusk by one of the lakes near Killarney.
But let's stick to Killarney for now. It's a place for walks in the forest and along the lakes and for hiking in the mountains, enjoying a landscape that at its best reminds me quite a lot about my own Norway. I had no problems at all imagining trolls having just run off to their hiding places every time I turned a bend on the trail through the forest.
Welcome to the Shire!
What you need to look out for in Killarney are the sly guys with bikes for rent. "Here, take this bicycle, it's brand new, you'll never have any problem with it", they say. Then you bike for 20 kilometres into the wilderness, you have a puncture, and you realize that the only thing to do is to walk your bike another 20 kilometres along the route you had planned back to town. When you return to the rental place, the guys there suddenly say "Oh, you were going to actually use the bike outside the town. Ah, yes, roughly half of our customers who do that experience experience a puncture. Ha-ha." And then you feel a little bit stupid and fooled, but mostly just really, really tired.
Don't brace yourself, there's no storm coming, it's just the weather posing dramatically for me.
Still, I'd love to go up there again, but not without a pump and a mending kit for the bike. Or even better; get someone to drive you to Kate Kearney's Cottage and then hike the 25-30 kilometres from there across the mountains and along the lakes, with great chances for hitching a ride the last 10 kilometres or so to Killarney. In nice weather, that's pretty much a perfect day trip, I imagine.
Having worn myself out in the Irish mountains, I decided to return to the coast. There are several fingers of land stretching west towards America from Killarney, and I chose the Dingle one. Mostly by random, but also a little bit because it's the one the leads to the westernmost point of "mainland" Ireland. Also, it's got Fungie, an amazingly friendly wild dolphin that has been living on the Dingle waterfront for more than a quarter of a century now, so there's probably little time left to see him now.
If you turn off the main road on Dingle, you'll almost always end up on a beach like this. Bliss.
Again I ventured out on a bicycle, this time fortunately with no incidents. It's a beautiful ride, doing the Slea Head Drive, a loop starting and ending in Dingle via the westernmost extremity of Ireland.
This early in the year there weren't many other tourists around, but I cherished the ones I saw. Few things can make me more happy than having a whole day at my disposal to enjoy great scenery at my own pace. My happiness is even further enhanced when on a day like that, I encounter a busload of people looking longingly out at me from behind bus windows, obviously wishing they could trade places with me.
A cool mammal, the bravest in its herd.
You need to take your time when you visit the Dingle Peninsula. The scenic views just keep on coming at you, and the road is generally so narrow that if you're in a car, there are just a tiny number of places where you can actually stop for long enough to get out and enjoy the views. If you go there, make sure to include an overnight stay or two. Incredibly, you can visit on a day trip from Dublin, but going on a trip like that is only good for inducing gastric ulcers.
Is it lovely or is it lovely?
Two buses with a half-day pause between them in Limerick let me move on to Doolin.
Retirees and a cherry tree in Limerick.
Doolin is almost nonexistent. There's one street, Fisher Street, with buildings only on the north side of it, with a hostel, two pubs and a couple of knitwear stores where you can buy an emergency wooly sweater if you need it. Which you often do in Doolin, I imagine. But the thing Doolin has going for it, is that it's a great place to start walking. You can go north-east, towards the peculiar rocky landscape of the Burren, or you can go southwest, towards the Cliffs of Moher. I did the latter, and rarely have I seen cliffs as beautiful as them anywhere else in the world.
Happiness.
Just walk along the edge, only as far away from the precipice as you must to feel comfortable. The wonders will gradually reveal themselves for you with ever increasing intensity. On your way you will meet huge numbers of oystercatchers, murres and the cutest puffins. The density of cows and sheep means crazy numbers of manure flies as well, but on the edge of the cliffs the wind is usually strong enough that they just blow past you without bothering you too much. As long as you manage to keep your mouth shut, that is. But do keep your eyes open! There are already sufficiently many crosses and plaques along the trail, put up in memory of those who have fallen off the cliffs or drowned at sea there.
If it's a good day, you may be lucky enough to see some insane surfers play in the ginormous waves just off the cliffs. I saw them, but I counted myself even luckier when a little while later, four basking sharks, the second largest fish on the planet, showed up with their huge white mouths, "grazing" for plankton. I spent a long time just sitting there and enjoying the rare show. That's the spirit, Nature!
Pretty high on scenery and wildlife, my time in Ireland had run out. I had to head back to Dublin to catch my plane home. Thanks to free wifi on the Galway-Dublin express bus, that took no time at all.
In conclusion, my opinion is that Ireland is a country where you can travel for weeks and weeks, and if you go, make sure to bring your best walking shoes. Dublin and Cork can have two or three days each, but the highlights of Ireland are mainly found along the west coast, in places with strange names you have never heard and that you could never have come up with yourself. Just try, and you'll see that I speak the truth.
Just another morning in Dublin
Fun fact: To travel between the Dublin city center and the airport, you have to go on bus 747. On the photo above, you can see what it looks like from the front seat of the top deck of that very bus as it takes you up the iconic O'Connell Street.
Since returning home I've been working quite a lot, but I'm soon to head out on another journey. Check back here, and I'll soon reveal to you where I'm going.
I'll be back.
(Stolen from a Dingle shop window.)