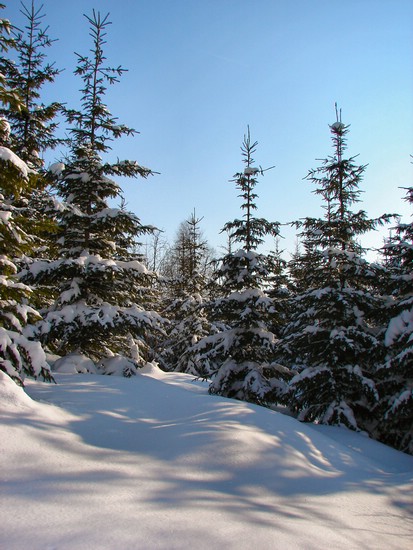 Scenes like this only come with severe cold.
Norway is at its darkest and coldest right now, making it not much good for walking. To brighten my day, remembering my long, warm walk through Italy this summer should be just the right thing. Do tag along, it can't hurt either of us.
A couple of years ago,
I walked the Camino de Santiago de Compostela
. It was a wonderful experience. It taught me how much walking I am actually capable of, which turned out to be a lot, and through my walk I felt that I almost became part of northern Spain and its hundreds of years of pilgrimage history.
I rarely visit the same place twice, if I can help it, but I confess to having thought about doing another walk to Santiago, preferably via one of the other old pilgrimage routes that end up there. Still, that would be fairly similar to my first walk, so I decided to look elsewhere for my next long walk.
The next obvious option was to walk to Rome and the Holy See. As it happens, there is an old pilgrimage trail leading there, the Via Francigena. It starts in Canterbury in England and after a long swim or boat ride it takes you through France, Switzerland and Italy. It sounds like an excellent alternative to anything Santiago, but I had never actually met someone who knew much about it, and absolutely no one who had walked it. That's usually a good reason for me to go somewhere and do it.
Click map to go to interactive version.
I only had three weeks, so I clearly couldn't walk the entire thing. I know I can do about 200 kilometers per week if everything goes well, so I searched for a place along the trail where 1) I would have roughly 600 kilometres to walk to get to Rome, and 2) I could pick up a pilgrim's passport. There is such a place; Fidenza!
I found a cheap flight to Milan and got on the first train south the next morning. It's a great start. Milano is busy, a grey and boring city for anyone not that interested in fashion. As you're about to go for a long walk, you'll probably be rather underdressed for this city, so you'll feel relieved when the train rolls out of the crazy huge Milano Centrale station.
An hour and a half later, I walked off the train in a small and cozy village in Parma. The town square was full of smiling, nicely rounded people, presumably all too familiar with parmesan cheese and Parma ham, enjoying ice cream and coffee on a hot early summer day. It was a great place to begin a walk.
I got my pilgrim's passport, my credenziali, quickly sorted at
Casa Cremonini
, right next to the cathedral. I acted as clueless as I could, since it was fairly clear that so were they. Granted, it was easier for me, because my Italian is really bad, but still... I expected them to be a little bit like the people who help pilgrims get started in Saint Jean Pied-de-Port for the Camino de Santiago. They aren't.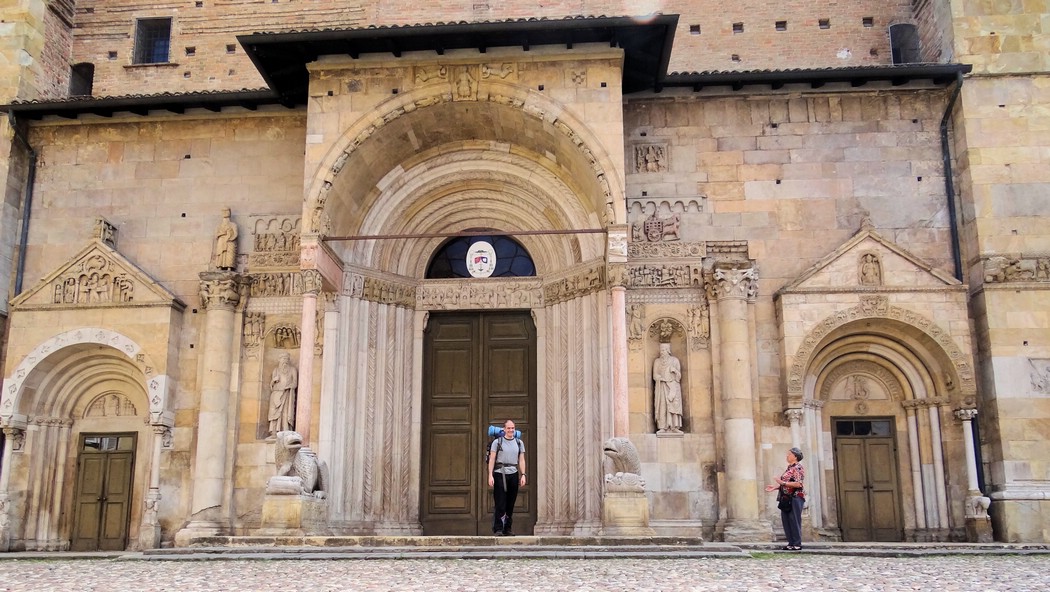 An old lady witnessed me departing on my walk and decided to applaud it.
While there can be hundreds of people starting their journey from SJPP daily during high-season, there can be several days between every day a pilgrim pops by the office in Fidenza, and only a few actually start walking there. There were no brochures and no knowledge to be had from the Cremoninis, so I just asked them which way to Rome. They pointed me out the door, and I was on my way, slightly disillusioned. This walk was probably not going to be much like my Camino de Santiago experience.
And it wasn't! It took me two minutes to realize that compared with Camino de Santiago's friendly yellow arrows pointing out which way to go and not to go at every possible and impossible turn, often even on straight roads with deep ditches on each side, Via Francigena has little or nothing to help you.
I got lost four times before I even left the town of Fidenza. The only way to keep on track was to rely on the GPS trail I had bought from a money-minded pilgrim before leaving home. Do
not
leave home to walk Via Francigena without something like that to guide you. The good news is that if you start your walk from Fidenza or further south, you can just
download my trail for free
. I'd venture to say that my track is even better than the one I bought, as I found many places where the trail had been moved and/or where I could walk more safely, a bit away from the roads where insane Italian drivers seek out people to mow down.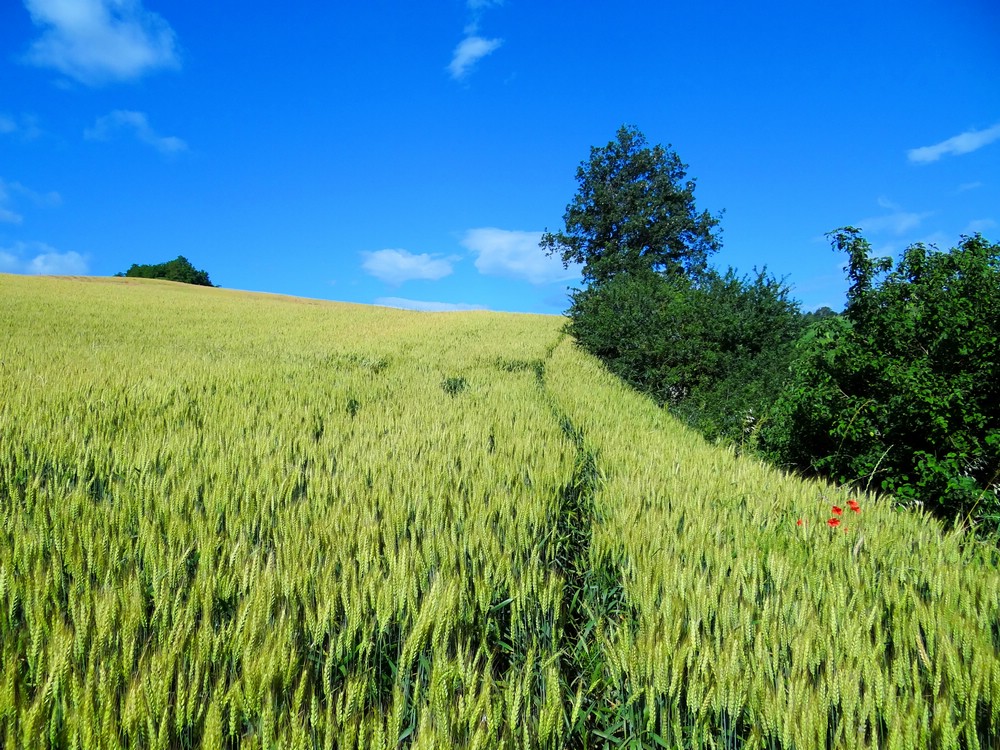 That narrow line in the field, that's Via Francigena. I'm not joking.
When you eventually learn to live with the sparsity of signs on the Via Francigena, you start wondering about the route it takes you. The distance you have to walk from Fidenza to get to Roma is actually much longer than the equivalent drive. It sort of makes sense. Once upon a time, someone figured out what a good way to walk across Italy was. Then many centuries passed, and much of that route was gradually replaced with roads for horses and cars, and the pedestrians had to find other ways for themselves.
Today the Via Francigena is a strange labyrinth through and around an infinite number of fields and farms separating you and Rome. The detours you're sent out on are frustratingly many. My first (half) day of walking took me from Fidenza to Medesano. As the crow flies, that is 13.5 kilometres. If you drive, it's 18 kilometres. My walk was... 26 kilometres! (Not including the bits where I got lost.) It's not as bad as that every day, but it feels like it. Especially when it's 40+ degrees out.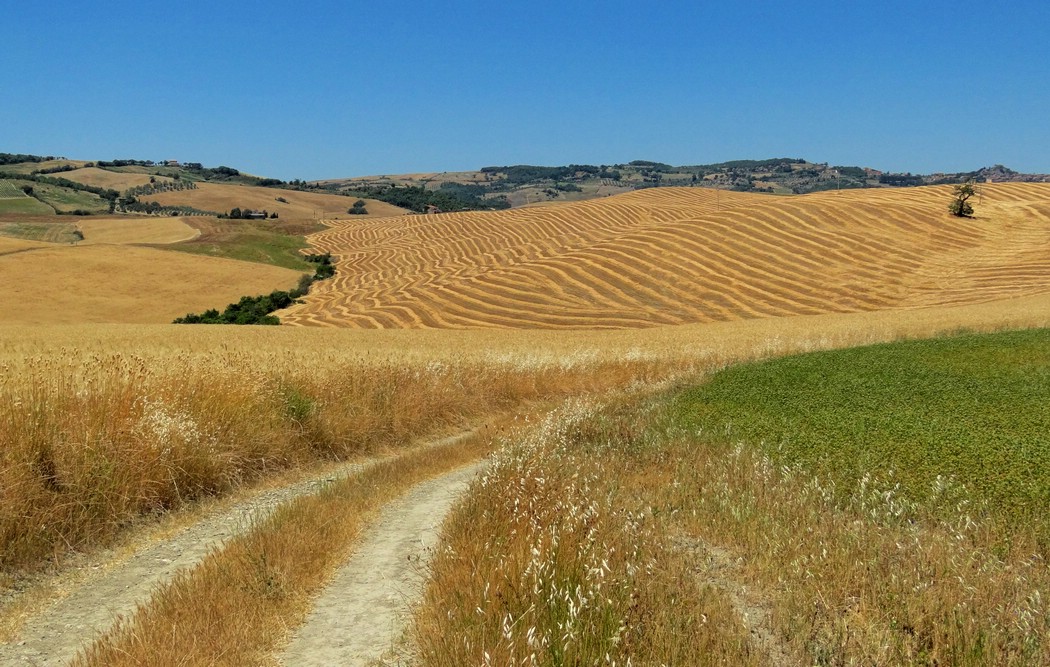 Fields south of Siena, near San Quirico D'Orcia.
On the plus side, you
do
get to see lots of beautiful countryside. And there won't be any loudmouths around to disturb you while you enjoy it. Because when you walk the Via Francigena, you do it only with the company you bring along. If you start out alone, you must bring your entertainment. It's not like on the Camino de Santiago, where you pretty much everyday will meet and walk for a while with someone new and interesting, someone with lots of tales to tell and possibly even someone willing to listen to you.
So, with there being close to no pilgrims on the trail, there aren't many places for pilgrims to sleep either. Some towns have a hostel for pilgrims, most don't. If there is a place, and if you have the address, you'll often find that it's closed, and that there is no one around that knows anything about it. While there are a few amazing exceptions to the rule, most nights you will have to sleep either for free in the woods with no facilities at all, or you treat yourself to a hotel with more facilities than you care for, at a price much higher than you have budgeted for. The 10-20 euro level of great pilgrim's hostels typically available with a few kilometres between them along the Camino de Santiago are just about nowhere to be found in Italy.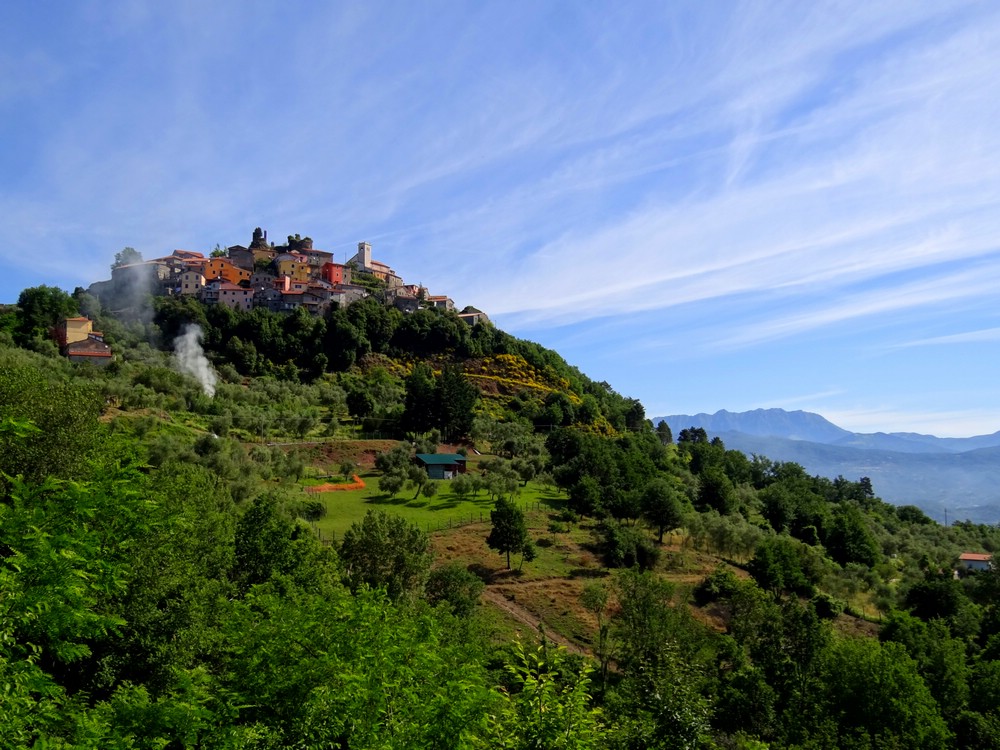 Bibola was a long time ago put up on a hill to avoid plunderers and malaria.
I hate to make it sound so bad. It really isn't, especially seen from a vantage point six months on. There are many beautiful sights and experiences along the way. Places I know only because I walked the Via;
The late night pizza place in Medesano.
The medieval hamlet of Castello di Casola with the dramatic valley backdrop.
Crossing the Appennines at the Passo della Cisa.
Ice cream in Villafranca In Lunigiana.
Bibola! Oh, Bibola, the most photogenic village imaginable.
Observing rich Italians, obscenely tanned and even more obscenely dressed, enjoying themselves in Pietrasanta's night clubs and discos.
The names of famous vines suddenly appearing as vineyards next to the path.
Lush farmland.
Enchanting old Viterbo, beautifully falling down.
A most wonderful amble through a narrow strip of old forest before Sutri.
Walking through the old and badly maintained park on Monte Mario, and suddenly have Saint Peter's Basilica visually scream at you.
I could go on. The list is truly long. Maybe even long enough to make it worth your while to walk it. Your walk will be different and your tastes may vary, but if you go, it's likely that you too will have many nice memories to look back on.
Via Francigena in its current condition can never be recommended ahead of the Camino de Santiago. It's missing the facilities. It's missing the fellowshop on the trail. It's missing the bargain prices for food and lodging. It's plain out dangerous, offering way too intimate encounters with ferocious dogs and mindless drivers.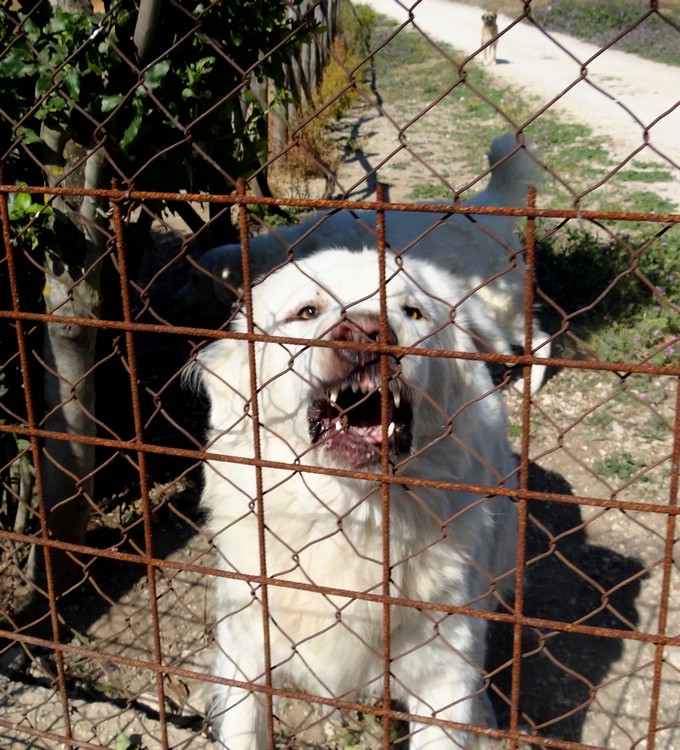 Annoying dog. I like his pal in the back much better.
If I were to recommend it to anyone, though, it would have to be for an April/May or October hike, when the weather and temperatures probably are fairly good for walking. And you should definitely look into booking ahead inexpensive lodging with the various monasteries along the way (call them, Italian only, and show up at the agreed time). Also, most mornings you should take a long, good look at today's walk and consider whether you really want to walk every bit of it. Where you can see large sections of the trail being on an open highway, do consider taking a bus or something to increase your chances of survival.
My favourite parts were these walking days:
From Fidenza to Medesano. Beautiful farmland.
From Cassio to Berceto and across the Appennines to Pontremoli. Nice mountains.
From Aulla to Sarzana, especially the first bit, including passing Bibola.
From Gambassi Terme to San Gimignano. Pleasant Tuscany farmland.
From San Quirico D'Orcia to Radicofani. The entire day is full of wonderful scenery.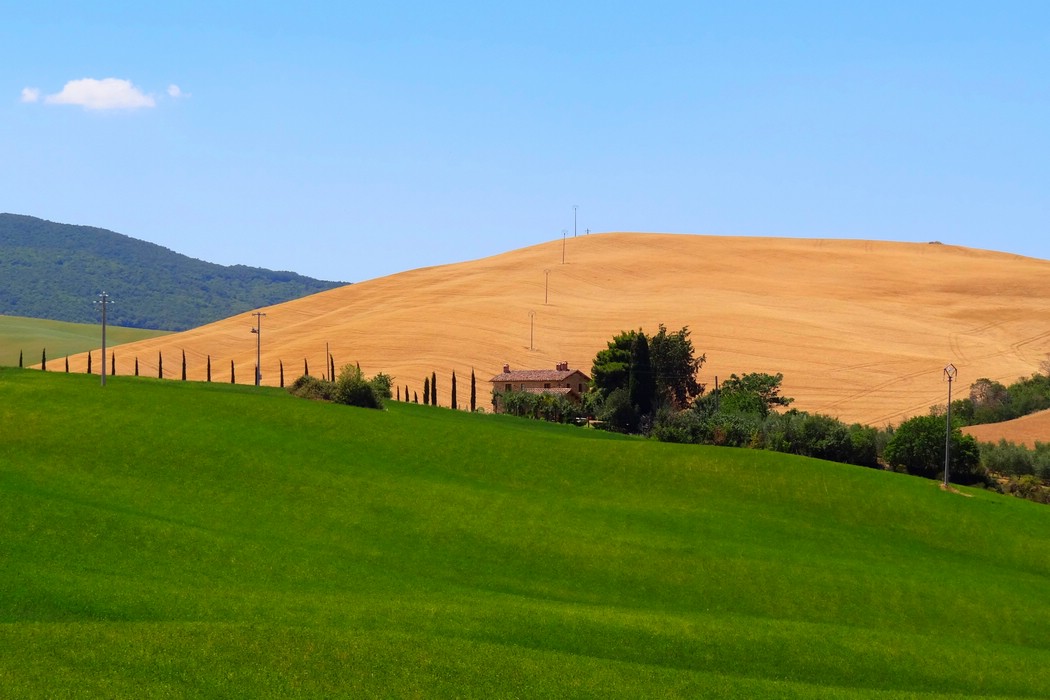 I saw a lot of this.
The best places I found for staying the night were:
The pilgrim hostel in Cassio. It's probably closed, but go to the bar up the road, they'll summon the keymaster for you.
The pilgrim hostel in Radicofani. Just like the Camino de Santiago ones, with volunteers and all.
Pieve di Santa Maria Assunta a Chianni, just before Gambassi Terme. Nicely restored lodging in the back, and they're open.
Bed & Breakfast Monticelli, just after Capranica. Very friendly people despite being only option.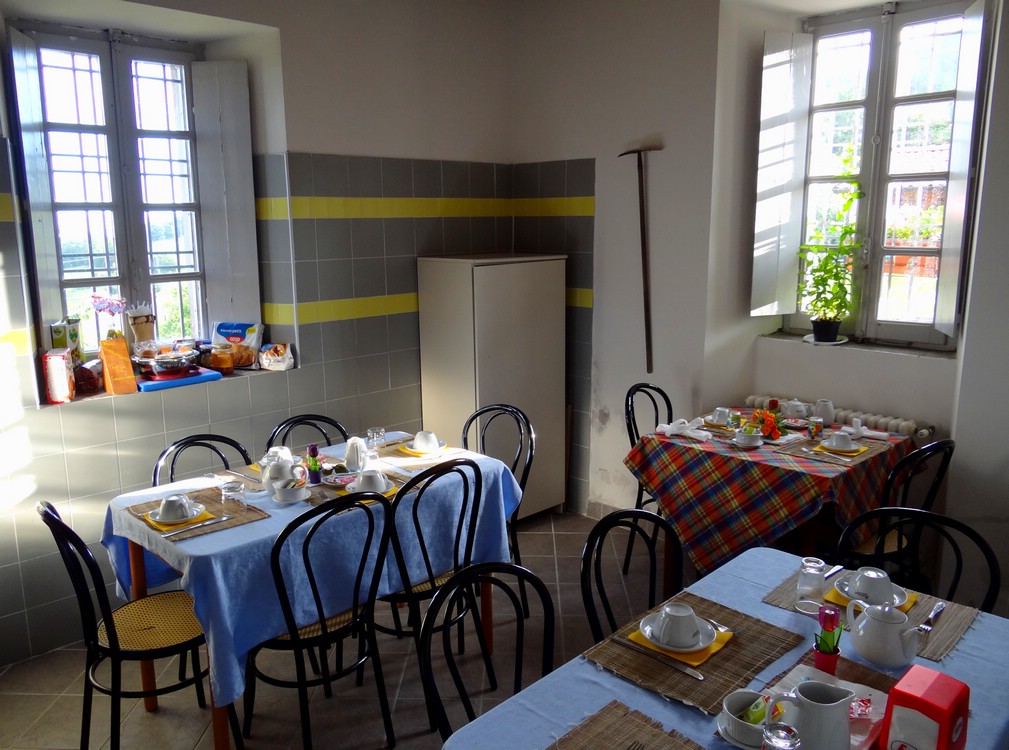 I was the only one there, but the hostel in Cassio still served breakfast for me and my imaginary friends.
My last tip for all future pilgrims is that when you arrive in the Vatican, do
not
go to the tourist information office to get your "Testimonium", or diploma if you like. Instead you should heap up on the left side of the Vatican, past the colonnade. There's a security checkpoint there. As long as you carry just a daypack
and
your passport, they will issue a visitor pass for you, which you can use to go inside the Vatican. Just around the corner you will find the sacristy of Saint Peter's Basilica, where you can get a much more impressive-looking testimonium, and if you ask nicely, they will probably let you pass straight through to the Treasury Museum from there, past the queue.
So there you have it. You can find more of
my photos from the walk here
. If you think I'm wrong about anything at all, do not hesitate to inform me. Also, if there's anything else you'd like to know, just ask in the comments!
Happy trails!